Get To Know Your Health Practitioners
We offer a free consultation call prior to any 1st time client appointment to ensure we get you scheduled for the appropriate service.
With decades of experience in health and wellness, we are excited to integrate personal training, movement and stretch, accountability suupport and massage therapy and structural integration services.
Your health & wellness is our highest priority!
The goal of our health and wellness team is to ensure you, the client, receives the highest quality services and specialty care so you feel like you have to come back!
When you book with XYZ generic massage company, you typically will not receive the detailed attention you actually need to address your specific health need.
Forget the pain, literally, by eliminating muscle aches and stress relief so you experience how it is to move better and more freely.
Located At:
2121 S. Oneida Street, Suite #420, Denver, Colorado 80224
By appointment only please. Please request your session and complete your client intake form at least 48 hours in advance. If you have signs or symptoms of covid-19, please see your primary care physician prior to scheduling a session.
"SMART Bodywork® was created with the active lifestyle in mind, focusing on structural integration with massage and bodywork, functional movement, stretching and personal training to achieve our clients' ideal results. Benefits to our clients include a reduction in muscle aches and pains as well as joint pain relief, enhanced breathing, improved mobility and range of motion, stress reduction and an overall physical and mental well-being. We work together addressing pain points and through various massage, bodywork and other recovery tools & techniques to achieve relief and release in muscles, fascia tissue and central nervous system, among others - helping you create a long lasting change in the connectivity and communication pathways in the human body." Brian Keene, LMT, ACE CPT
Covid Protocols
Currently, even with vaccinations, clients and therapists are mask optional during the session.
If you are uncomfortable in masks during a session, when asked upon, we ask you to please consider booking somewhere else for the safety of all our clients. Thank you in advance, we hope we get to work with you soon!
About Brian Keene LMT
Brian Keene LMT has over 2 decades working in sports performance, massage therapy, wellness, fitness and sports management at recreational sports events.
Brian has certificates in many modalities that vary the experience each client may have. From SportStretch (thai-style sports massage) to Visceral Dynamics and Structural Integration of the Cervical Spine, Neck & Shoulders with Trunamics.com, Brian and the entire SMART Bodywork® team are excited to help you achieve your health, performance and wellness goals!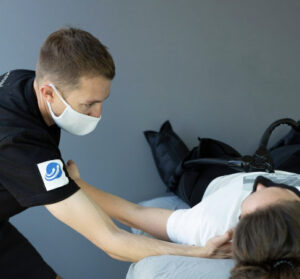 Are SMART Bodywork® Services Right For You?
We have a great structure for your goals to be met. Even in a free consultation call, we may be able to help. If your seeking a new model for health and wellness where you achieve your greatest success, give us a call.