About Brian Keene, BS, LMT, CPT, CAFS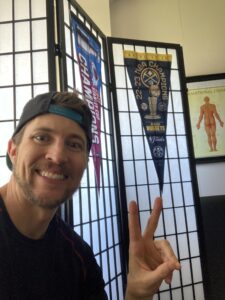 professional
Hey y'all, I'm Brian Keene, LMT. I've been working with athletes of all levels going on 20 years now. I'm originally from North Carolina, started working with collegiate athletics at NC State University. A year after graduating, I was laid off from the Carolina Panthers Team Store then moved to Denver, Colorado to work with the Denver Broncos in 2007. After a short seasonal stint in the professional sports retail setting, I went to massage school so I wasn't dependent on someone for a paycheck.
Once I graduated from the massage program, I used my Bachelors of Science in Parks, Recreation and Tourism and ventured into the world of sports event planning entrepreneurship, working a lot of sports events with my then new company, National Sports M.A.P.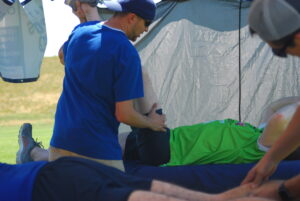 During this time I was booking sports massage therapists and athletic trainers, emergency medical technician's and other event personnel at sports tournaments and events around the country. Specifically building the business in Colorado and Southern California, I worked a lot of tennis and volleyball tournaments.  I saw how valuable it was to make connections with the athlete and build relationships at the various tournaments throughout the year.
My Greatest Management Success Was This Sports Tournament

San Diego ITF Senior World Championships
A 14 day tennis tournament, covering 7 sites, 1,100+ athletes, 1 Heart Attack Survivor - required scheduling and managing 78 days worth of practitioner time
From Sports Events & Mobile Massage to Medical Massage, In-office
In March 2020 I was about to be a mobile based massage therapist. I was working independently with success going to sports events, making connections and then doing in-home massage.
As soon as Covid was announced, and the sports-leisure side of massage was shut down, I found a local chiropractor office to work with. I have been in the same office since August 2020 and am very thankful for Dr. David Shapiro and the staff we have supporting our work to provide wellness for our patients.
Learning various skills and the many specialty Certificates allows me to be more in depth with my hands-on or movement solutions for clients to feel better faster.

Family & Friends
I enjoy traveling to places I'm Licensed to work (Florida, Oregon, Montana, Washington State), going to sports events (Big Fan of the 2023 NBA Champion Denver Nuggets and 2022 NHL Champion Colorado Avs! Lets Go!), concerts and breweries every now and again.
Brian is married to his beautiful wife Tara. They got married in July 2020 in Libby, Montana. Brian and Tara enjoy spending time watching tv, cooking, listening to music, thrifting, Taylor Swift(ing) and snuggling their handsome dog, Montgomery Matthew Von Keene III (also known as Monty, aka Bob Barker.)
My immediate family lives in Denver, Colorado, and while I love spending time with them for entertainment and meals, they are also clients of mine, so you may or may not run in to some of my family in the office. We appreciate your understanding for any interruption you might experience.