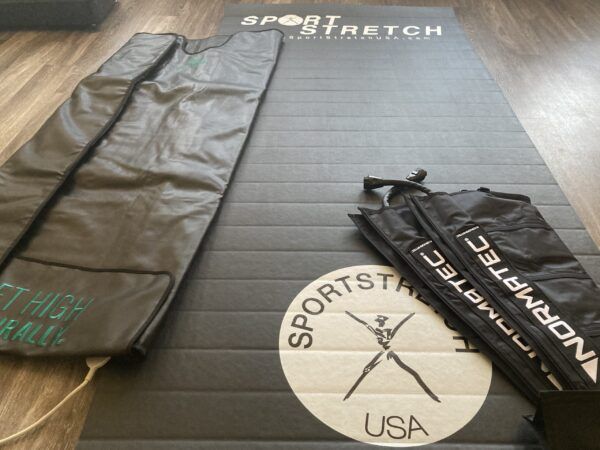 Wellness solutions for everybody returning from injury
Wellness solutions for everybody returning from injury
We are excited to provide a unique program with wellness solutions for every person imaginable. Whether you just like massage, you want a spa-like experience, you need great bodywork or you just need somewhere private to rejuvenate and escape from life, we have it all. In a covid-safe envionment, you can book 60 minute Hands-free Recovery sessions or a 2.5 hour treatment with us. The particular treatments we have created are updated for 2020 and come from years of work in another heat therapy spa setting, where clients see amazing results from the entire massage treatment.
Our wellness solutions for you may incorporate the following technologies and components.
HigherDOSE Infrared Sauna
HigherDOSE Infrared Sauna to help increase flush the lymphatic, cardiovascular and respiratory system, heat therapy that is a "weighted blanket sleeping bag that warms up – like you're a burrito" said one client, Anselmo G., who enjoys the Sauna SportStretch Sauna massage treatment the most. The body benefits from the additional time in the Infrared Sauna, especially when each time comes with aromatherapy and a little scalp massage.
VBX Wellness machine
Dr. Dave's office offers this great amenity for creating vibration and movement for the lower limbs. With connection from heel to hip, you can control how, where and how much this machine can circulate blood from your legs back to your heart.
NormaTec Compression Leg Sleeves
These leg sleeves may be worn on the table, SportStretch mat or in a comfy chair. If you are a student-athlete competing in high school or collegiate sports, these NormaTec compression leg sleeves will help alleviate many aches and pains in your feet, calves, knees, quads and hamstrings. You'll want to buy yourself a pair, and you can. But, since you can't get bodywork like this anywhere else, call ahead and schedule a treatment that includes the leg sleeves, booking at least 48 hours ahead, please.
SportStretch
SportStretch is a total package of benefits, combination of sports and thai-massage, PNF stretching, range of motion and momentum, stretch and massage unlike the others. This type of session is clothed in athletic attire. Combinations with 60 or 90 minute SportStretch sessions include Infrared Sauna and/or NormaTec Compression Leg Sleeves.
Neuro-muscular and myofascial structural massage alleviating tension throughout the body
Massage is a general term for someone to get a relaxing hands-on treatment. While we can perform that type of session, if the client desires, we also perform neuro-muscular and myofascial structural bodywork, aligning the muscles along the spinal column and alleviating any tensions that might be connected, literally from head to toe.
Cranial-sacral sessions
A fully clothed session, this is a non-invasive type of hands-on treatment where the client rests on the table and the therapist works along the structures of the cranium and sacrum, hips and incorporates aromatherapy and introducing breathing techniques for deep relaxation. This type of session is great for seniors who might be recovering or suffering through low back, hip or neck pains.
---
Brian Keene
I am a Licensed Massage Therapist and Ace Certified Personal Training living and working in Denver, Colorado. I have worked with athletes of all levels in sport and recreation, at events and in-office, and have built SMART Bodywork® Fitness and Massage to be the place to go to feel better, faster! I believe that movement is medicine and if you need to know three key words to feel better, here they are: 1. movement 2. pressure 3. breath.
---